Jump To:
The Project
This case study comes from a past customer Henry who was looking for an alternative solution for his shed foundation. He began researching online and considering his options he found our website and began to browse our range of products. After reading up on the fantastic benefits of our recycled plastic base, Henry ordered an 8ft x 6ft Plastic Shed Base and a Shed Base Membrane with Membrane Staples on the same day. These arrived the next day in easy to manage boxes for Henry to store until the day of installation.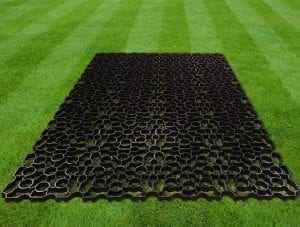 The Work
Henry began his work by clearing the 8ft x 6ft area in which he wanted to stand his shed. He ensured that there were no bushes or rogue plants in that area and then proceeded to lay his sheet of Shed Base Membrane. Membrane sheets are used to stop any plants or weeds from growing up and through the base but at the same time remaining permeable and allowing water to drain away naturally.
He secured the sheet into the ground using membrane staples to ensure the sheet doesn't move or blow away before the base is installed. On top of the membrane Henry began laying the 8ft x 6ft base, he placed one panel at a time and simply attached them together using the specially designed slot and peg system. Henry told us how easy this part of the job was. With the base in place Henry could now install his brand new wooden shed!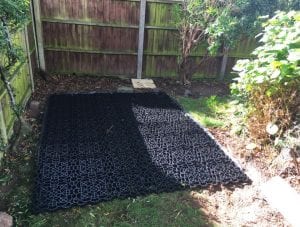 Conclusion
Henry was and still is very pleased with his shed and base. He told us how easy our product was to use and also how strong it is supporting his new shed. We are pleased our product is used and loved by so many people!
A huge thanks to Henry for the images and information to allow us to create this case study. If you have anything to share with us or questions regarding our products then please do contact us.