Allotment owners can struggle carrying all of their tools and equipment from their home to their plot of land. This was an issue our customer was having before getting himself a new Shed and 8ft x 6ft Plastic Shed Base for storage. Read on to see how easy the base and shed were to install!
Jump To:
The Project
This case study comes from Chris who had been given a friends old shed to put in his allotment after they had upgraded theirs. Chris began looking for a suitable foundation that he could install himself and discovered the plastic base system market.
Christ initially looked at B&Q as he has a discount card for there but after researching online and looking through our website and products, he found we offered a considerably more competitive price than B&Q – even with the discount. Chris ordered his 8ft x 6ft Plastic Shed Base the same day he found our website. We were also told that our bases being 100% recycled plastic also helped his decision.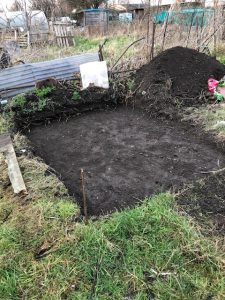 The Work
Chris received his 8ft x 6ft Plastic Shed Base a few working days later in an easy to manage box which he could easily store until installation day. Once the day did arrive, Chris went to his allotment with his base, sheet of membrane, a shovel and his new shed.
Chris began by outlining an 8ft x 6ft area where his shed would be stood and dug down to a depth of around 50mm, removing the existing turf and soil as he went along. Next, Chris laid his sheet of membrane in the 'hole' and secured it down to ensure it would not blow away or move when walked on.
With the membrane secure, Chris began installing his base. Starting in one corner and laying one panel at a time simply attaching each panel together as he went along using the specially designed slot and peg system. We were told how easy this was to complete.
Finally, after deciding not to fill his base with gravel, Chris began putting up his shed. He started by laying the floor onto our base and then erecting each wall before securing down the roof and door. He could then begin safely storing his tools and equipment!
Conclusion
Chris was and still is very happy with his new base and shed. We're sure his new shed will be a great addition to his allotment!
He told us: " DIY is not easy for me and this turned out to be a relatively easy job. I found if the base was becoming uneven it was easy enough to correct it by adjusting the ground level underneath with either more soil or scraping some off. 
I would use your base from yourselves again. In fact I spoke to a neighbouring allotment keeper who asked about it & I was happy to recommend you & provided her with your website."
A big thanks to Chris for using our base and for sharing his project with us. Should you have any questions regarding our products or images of your project to share then please do not hesitate to contact us.