With the options forever increasing when looking to buy a shed or other garden building it can be almost impossible to decide which to buy. Although we cannot help you decide what shed to buy we can make sure whichever you do eventually buy has a solid foundation on which to stand for years to come. Our bases are amazingly strong, eco friendly, weatherproof and permeable. So the chances of your shed rotting are much less! With all of these benefits and more you would be mad to shop around, order your base now! Ken used our base for his new shed, read on to find out what he thought of it!
Jump To:
The Project
Ken visited our website after searching through the internet for a suitable base. After looking at other possibilities, Ken decided our base would be best suited to his new Metal Shed he had just ordered. He came to this conclusion as he needed a strong base (ours can withstand up to 420 tonnes per square metre), a permeable base (our panels have a 70% open structure so water can drain naturally) and the ability to decorate and fill the base as he liked (can fill our bases with decorative gravel).
After finding the correct size base on the site, Ken ordered the 8ft x 6ft Plastic Shed Base. The base was dispatched the same day and arrived at his chosen delivery address 3 working days later in easy to manage boxes which are packed with the customer in mind by our fantastic warehouse staff.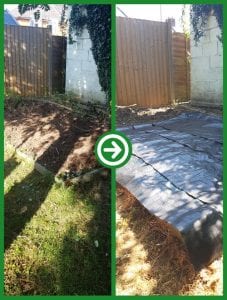 The Work
If you don't know how or are wondering how to install our bases correctly then read our How To Build A Plastic Shed Base information page which will explain exactly how we recommend the bases should be installed.
Ken began the project by deciding and outlining where the base and shed would be installed by measuring out the dimensions of the shed base and laying string along the perimeter of where the base will end. From here Ken began to dig out the existing turf within the outlined area, the removed turf is taken out of the garden and disposed of responsibly. This left an empty area where the base would be installed.
Before the base could be laid a sheet of Shed Base Membrane is laid in the now empty area. Membrane is used as a permeable shield to protect the base and shed from unwanted weeds and plants whilst still allowing water to drain away naturally to help prevent any flooding. The membrane is secured into the ground using Shed Base Membrane Staples which prevents any movement when the base is installed onto the sheet.
With the membrane laid and secured it was time for Ken to begin laying his plastic base, we designed our bases with ease of use in mind. Including a simple to use slot and peg system this process can take no time at all. Ken told us that the base was very easy to install, he laid the panels one at a time and easily connected them together as he went along until the full area had been covered. With the base now complete Ken filled in the entire base with decorative gravels, around 8kg of gravel is needed to fill each panel fully.
Finally with his base fully complete and with the help of this son he began to build his metal shed, erecting it by putting up the sides and then building from the inside. As you can see from the following photo it looks great!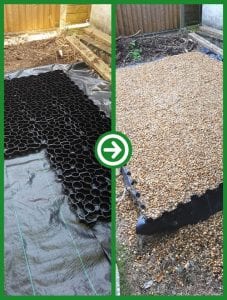 Conclusion
Ken was very pleased with how the entire project turned out. We are so pleased our product can not only support sheds and garden buildings for many years but help prolong the life of the installed garden building. The last job for Ken is to move his things from his old shed to his brand new shiny one!
We would like to say a huge thank you to Ken for the fantastic photos and information he supplied us to create this case study. Should you have any photos or information to share with us or any questions regarding our products then please do not hesitate to contact us.