This case study comes from a recent customer, Adrian, who was looking for an easy to lay base to install behind his garage and under a brand new wooden storage shed. He did consider a wooden or concrete base but decided against those due to potential rotting with wood and the intensive labour and curing time required with concrete bases. Read on to see which base Adrian decided on:
Project
After ordering his new wooden shed and deciding to use an alternative base, Adrian began researching for a suitable product to install and soon came across our fully recycled plastic base. He began to read up on the many benefits our bases offer such as holding up to 420 tonnes per sqm, being easy to install, being permeable and also being competitively priced. He was so impressed that he ordered an 8ft x 5ft Plastic Shed Base the very same day.
The order was processed the same day and arrived just a few working days later via DPD.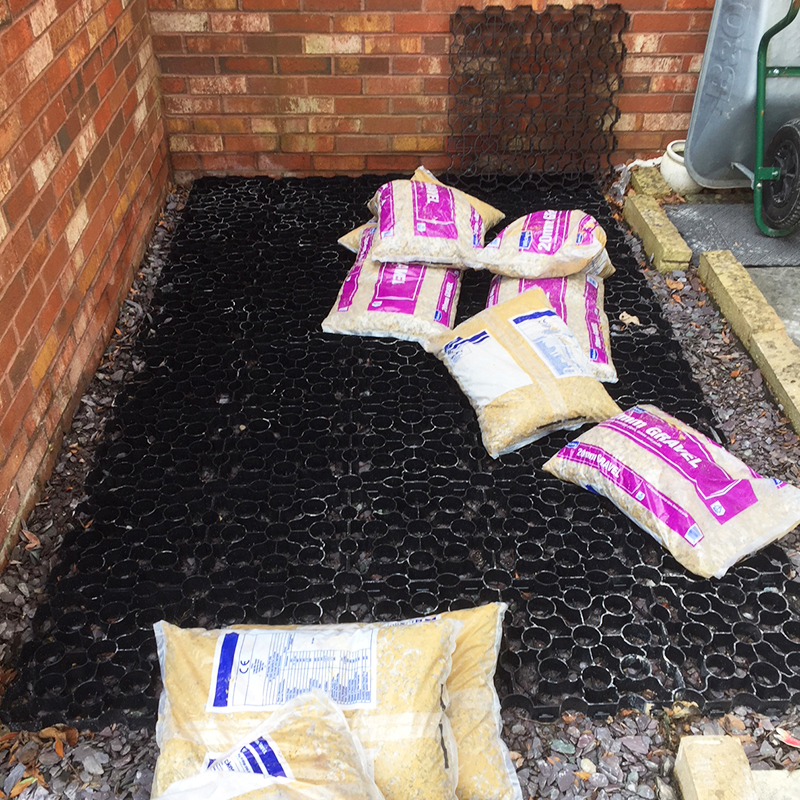 Work
Adrian received his base in an easy to manage box which was packed by hand by our warehouse team meaning he was able to simply store his base until the day of installation arrived.
Once the day of installation arrived, Adrian unpacked his box in the garden, got out his many bags of gravel and began to lay his base. Using large gravel he created a flat and strong sub-base on which the base would stand. He spread the gravel and flattened it down and ensured it was level as well as he could.
From here he began to lay his plastic base panels. Starting in one corner, Adrian laid one panel at a time and simply connected each piece together as he went along and easily connected each panel together using the specially designed slot and peg system. Adrian repeated this until the full area was covered and it took no time at all.
With the base installed Adrian began filling the base with gravel. Around 8kg of gravel is needed to fill each panel so you can work out an estimate of how much gravel is needed.
Finally all that was left to do was to install his new wooden storage shed on his now filled plastic shed base.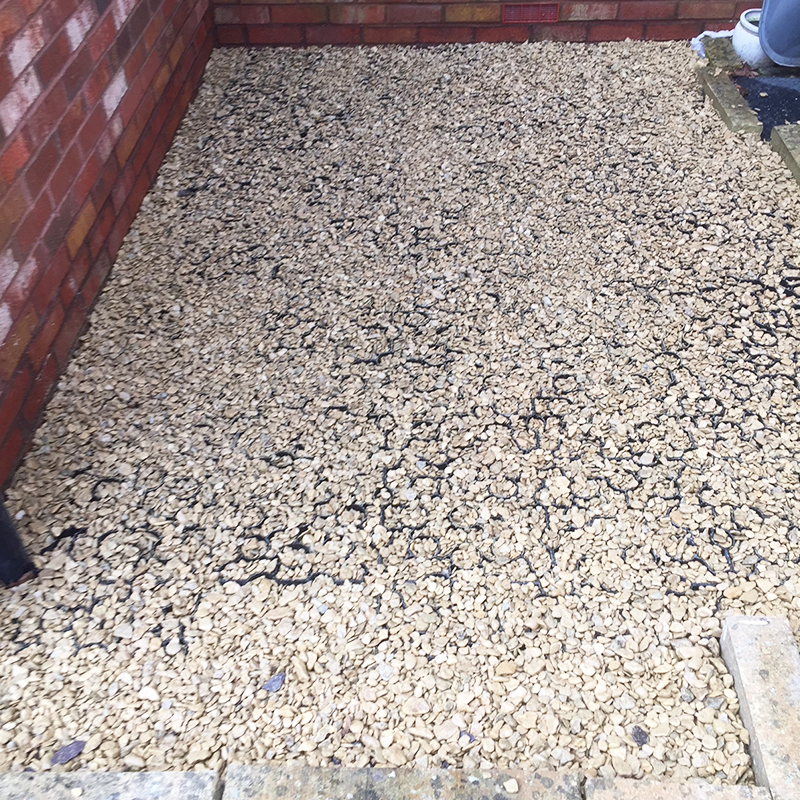 Conclusion
Adrian was and still is incredibly pleased with his new 8ft x 5ft Plastic Base and brand new wooden shed.
Adrian told us: "The base was ideal as I had a broadly level space behind my garage. it allowed a value for money, single-person installation within a few hours. I didn't have to bother with mixing concrete or getting rid of vast amounts of soil"
A huge thank you to Adrian for the photos and information he shared with us to allow us to create this case study. Should you have any photos to share or have any questions regarding our base then please do not hesitate to contact us.