Needing a new shed is something almost everyone goes through in their life, but the thought of having to pay so much money for someone to come and lay a concrete base puts most people off even looking for a new shed. What if we told you there is a cheaper and quicker way to have a sturdy base for your shed? Read on to see what time and money-saving, yet still very effective base Joanne picked for her new shed!
Jump To:
The Shed
A member of Joanne's family was relocating to Spain. Instead of leaving or throwing their Shed away, Joanne was kindly given the shed. Then began the challenge of finding a quick and inexpensive base to lay that could both support the new shed and be laid by Joanne and her daughter. There was already a shed (photo on the right) in Joanne's garden so that needed to be knocked down and taken to the local tip before laying the new base.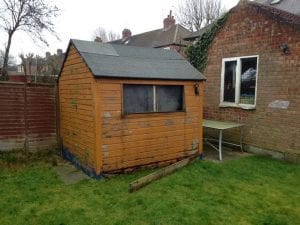 The Base and Other Costs
Multiple shed bases were considered by Joanne, she took her time and weighed up the pros and cons of each before making her final decision. She had to take into consideration the ease of putting the base down too as the entire project was to be done by Joanne and her Daughter. They came across our website and said how our prices were incredibly competitive and also the base looked the easiest to assemble. Plus the guarantee that it would hold far beyond the sheds weight was an added bonus. Joanne bought the shed base from us the same day.
Joanne ordered a 50 Individual Shed Base Panels from us, as well as Membrane and Securing pegs for around £100. We delivered the items to her on a specified day. She then visited her local Wickes store and bought Ballast and Pea Shingle for £25. A friend of Joanne also gave her 4 paving slabs.
So all in all, £125 for a brand new shed and base! Not too bad!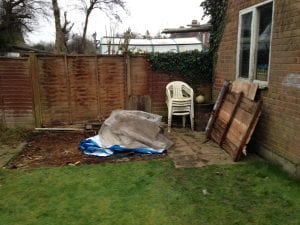 Work Required
The actual project took 2 weekends to complete. On the first Saturday, Joanne, a work colleague and Joanne's daughter knocked down the old shed. They broke up the shed into smaller, easier to handle pieces and took them to the local tip.
The following Saturday, Joanne and her daughter levelled the ground where the old shed was stood, using the Ballast bought from Wickes. They then removed a small amount of grass and laid 4 paving stones. Joanne's old shed was 8ft x 6ft and her new one was 7ft by 7ft hence why more grass was removed. On the Saturday evening Joanne constructed the base (in 3 sections) in her dining room which was super simple! Then Sunday morning Joanne and her daughter assembled the full base outside and laid it in the correct position. Again was very simple to do!
Conclusion
Joanne was extremely happy with how the entire project turned out. The family member giving Joanne the shed was also very impressed with the base as they thought they would have to come and help put it all together! Joanne would certainly recommend the base to others as it was so easy to assemble and lay and also saved a lot of time to do the job. She admitted she would have not been able to lay just heavy paving stones as a base.
Joanne was also very impressed with prices and delivery, she asked for delivery in the morning of her day off. A text was sent to her with an hour period when her Shed Base would be delivered. Our base is packaged in light manageable boxes that domestic customers can easily move around in and out of the house.
"All in all I am very please with the whole result and experience of buying from your company"
Thank you for choosing us Joanne and for giving us a review of your experience with us!