Jump To:
The Project
This case study comes from a customer Kevin, who was looking for a sturdy base. Not for his Shed but for a Hot Tub! After purchasing himself and his family a large inflatable hot tub for the garden he set about searching for the correct foundation to sit beneath it.
After searching on the internet, Kevin came across our website and our fully recycled, strong, easy to install, UV & weather resistant bases! After finding out about all of the benefits of our plastic base, Kevin ordered a 6ft x 4ft Plastic Shed Base along with a sheet of Shed Base Membrane and Shed Base Membrane Staples the same day! His order was packed and sent out the same day which he received 3 working days later.
The Work
Kevin received his base, membrane and staples in an easy to manage box and store them until the day of installation.
Once the day arrived, Kevin measured out the area and marked it out using the border of his decking. Inside this, he laid his sheet of geo-textile membrane and secured it into the turf below using his membrane staples to ensure there would be no movement if stepped on.
From here he laid a small layer of fine sand and compacted well to create a solid sub-base on which the base would stand. Next, he began installing his base. Starting in one corner and laying one panel at a time and connecting them together using the specially designed slot and peg system as he went along. Kevin told us how easy this process was.
This the base laid, Kevin filled all of the plastic panels with gravel. Around 8kg of gravel is required to fill one panel. Finally, with his base now in place, Kevin had his new wooden decking installed along with his new spa! We're sure you'll agree it looks great!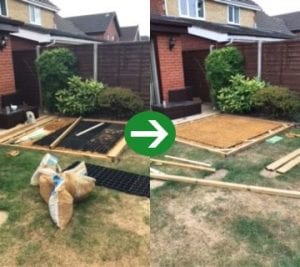 Conclusion
Kevin was and still is incredibly happy with his 6ft x 4ft plastic base, decking and new inflatable hot tub! He has a solid foundation under his new relaxation spot so can be assured it will be in safe hands for years to come!
A big thanks to Kevin for using our plastic base panels and for sending us the photos to create this case study. Should you have information or photos to share with us or questions regarding our products then please do contact us.