When it comes to creating a base for a log storage shed there are a number of things to take into consideration, one being the price and difficulty to install, two being the qualities of the base; so can the base allow water to drain away whilst being strong. Finding a product with all the qualities required can be a difficult task which is why we created our base so almost anyone can easily install a strong base to support their shed, greenhouse, log store, log cabin or other garden building for years and years to come. Read on to see what our customer decided on for their new Log Store.
Jump To:
The Project
In this case study, Eveline contacted us after purchasing herself a brand new metal log store which she was going to be installing by her main shed. The only issue was that the surrounding area was not suitable to support the store so she needed to have one installed. After researching and looking at multiple options such as concrete bases (too expensive or too labour intensive) or wooden bases (prone to rotting) she found our website and decided to use our fully recycled, easy to install, long-lasting and weather-resistant base. She ordered a 6ft x 3ft Plastic Shed Base the same day she found us and received her base 3 working days later in an easy to manage box that she could simply move and store until she needed to install it.
Read on to see how Eveline installed our base;
The Work
Once the day of installation arrived, Eveline took her base outside and easily unpacked it around the area she would be installing her Log Store.
From here she measured and outlined the area where the base would be stood, this gave her the outline of turf and soil that needed to be removed to allow to base to sit comfortably in whilst being flush with the rest of the garden. She then responsibly disposed of the excavated soil continued with the installation.
Next, Eveline used old mud bags as a replacement Shed Base Membrane which she laid in the hole and secured into the ground using Shed Base Staples. These are just to ensure the membrane doesn't blow away or move whilst the base is installed. On top of the secured membrane, the base was laid. Eveline laid one at once starting in one corner and connected them together using the integrated slot and peg system.
Finally, with the base laid Eveline filled the base with sand and some leftover soil. Then on top of the base, she installed her fantastic new Metal Log Store.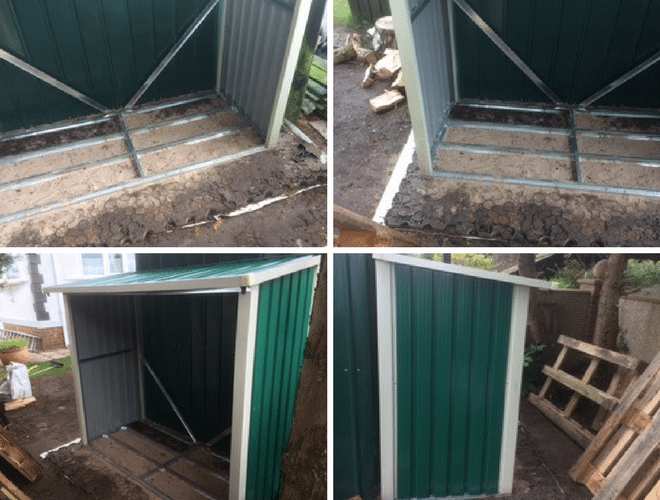 Conclusion
Eveline is very pleased with her new metal log store and her strong, fully recycled plastic shed base! Not only does she have a great store but a solid base that will help prolong its life by allowing great airflow and stopping potential rotting or rusting.
Eveline emailed us; "Here are some pictures of my new log store and your base. I used old mud bags as a membrane and then I filled the base with sand and soil and finally installed the log store on it."
We would like to say a huge thank you to Eveline for the photos and information she shared with us to enable us to create this case study. If you have any photos or information to share with us then please do not hesitate to contact us.