This case study comes from Rachel Aaron Design Studios who is an architectural designer. Rachel was looking for a suitable shedbase for her own garden after purchasing herself a new shed. Read on to see what shed foundation Rachel decided to use:
Jump To:
The Project
Rachel began researching to find a strong, eco-friendly base that would also protect her shed from rotting. Which is when she came across our website and started to browse our range of fully recycled plastic shed base sizes. She was so impressed that she ordered a 5ft x 4ft Plastic Shedbase and Shed Base Membrane with Shed Base Membrane Staples the very same day!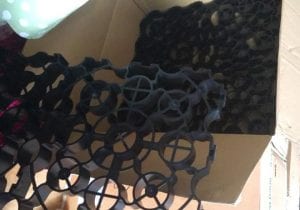 The Work
Rachel received her base in an easy to manage box which was packaged up and sent out by our warehouse team the same day she ordered. Rachel stored her base until the day of installation.
Once the day arrived she unpacked her plastic panels and membrane and set to work installing her base. She began by outlining where the shed would be installed and marked this on the ground. From here she laid out her sheet of membrane and secured it into the ground using the membrane staples to ensure it would not blow away or move if walked on.
Next, Rachel began laying her base. She started in one corner and laid one panel at a time, simply connecting each piece of base together as she went along. A very simple process!
Finally, she filled the entire area with decorative gravel. Around 8kg of gravel is needed to fill each panel. A very quick and easy installation indeed!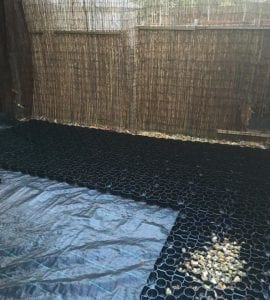 Conclusion
Rachel was and still is very pleased with her new plastic shedbase. Due to poor weather in the past few weeks she has been unable to install her shed unfortunately but will do so as soon as she can.
We're sure you'll agree that the base looks great and will look amazing with her new shed once installed. A huge thanks to Rachel for using our shedbase and for sending in these photos to allow us to create our case study.
Should you have any photos of your installation to share with us then please do not hesitate to contact us and we will create a case study all about your new shed and base!