With trends forever changing there is no sure way to ensure that your styles or even your garden will always been in. However, thanks to our recycled plastic shed base, should you need to replace your shed or other garden building, you can! With a fantastic product lifetime, sometimes outliving the buildings installed on top, our bases will provide support to your buildings for years to come. Read this blog and any of our other blogs to see how effective our bases have proved to be for our customers. In this blog, Nicola is laying two bases for two structures, a shed and a playhouse. Read on to see how the bases were laid and how they are performing!
Jump To:
The Story
Having just bought a brand new Storage Shed for herself and a Playhouse for her Daughter, Nicola was looking for a suitable base that would not only be strong enough to support the structures but also stop them from rotting or flooding. This was when she found our website and began to browse through our base sizes to find the perfect one for her. After correctly measuring up her garden and the garden buildings, Nicola ordered a Shed Base Membrane and a 4ft x 6ft Plastic Shed Base as it could be split into two bases large enough for the shed and playhouse. Delivered 3 working days later in easy to manage boxes, Nicola could move and store them as she pleased until the installation day arrived.
Nicola decided to erect the shed and shed base first, read on to see how she so!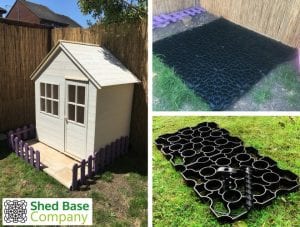 The Work – Shed
Nicola began the process by measuring and outlining where the base would be installed. From here, she cleared the base area to ensure there was a flat, secure surface on which the base and shed would be stood. From here, she laid down a sheet of geo-textile membrane and secured this into the ground using Membrane Staples to ensure that there would be no movement once the base and shed were installed. Membranes allow for water to drain away naturally whilst being a barrier against weeds and plants trying to grow up and through the base panels.
With the sheet secured, it was time to lay the base. Starting in one corner, the panels are easily moved, laid and attached together using the simple slot and peg system. As Nicola and many other customers tell us, this was an incredibly easy process that they would recommend to others without hesitation.
Finally, on to the laid base Nicola installed her Storage Shed and began to fill it.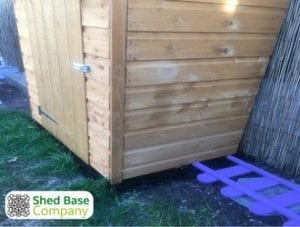 The Work – Playhouse
As the storage shed was such a simple installation, Nicola knew that although this area was slightly larger, laying a second base would take no time at all.
She followed the same procedure as before, starting with outlining of where the base would be installed and clearing the existing ground to create a good flat, solid sub-base on which the Playhouse would be installed. On to the cleared ground, Nicola laid a sheet of geo-textile membrane and stapled it into the ground again using membrane staples. Membrane is a great complimentary product to our plastic shed base as they both share permeable features of allowing water to drain away naturally whilst still being strong enough to support and stop potential issues.
On top of the membrane the rest of the plastic shed base panels were installed. By following the How to Build a Plastic Shed Base information guide and How to Install a Plastic Shed Base Video, Nicola simply laid, connected and secured the base very quickly. We pride ourselves on the simplicity and strength of our base.
Finally, Nicola's daughter's brand new white playhouse was installed on to the secured base. Both buildings look fantastic and we are sure that Nicola's daughter will love her new playhouse for years to come!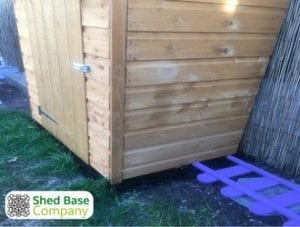 Conclusion
Nicola is incredibly happy with how both projects turned out. She told us how pleased she was with the delivery and the simplicity of the product. As you can see from the photos throughout the blog, Nicola's garden looks fantastic now and the playhouse will provide years and years of fun and entertainment!
We would like to say a huge thank you to Nicola for sharing her pictures and project information with us to be able to create this amazing case study. Should you have some images you would like to send us or questions regarding our bases, then please do contact us.