This latest case study comes from Justin, who was looking for a strong, easy to lay and permeable shed base which he could install himself and would help prolong his sheds life. Justin decided against using concrete as it would be far more labour intensive and against wood as in British weather, it is far more likely to rot. Read on to find out what base Justin decided to use:
Choosing a Plastic Shed Base
Justin began searching online to find a suitable base that he could install himself, was strong enough to support his large shed and would decrease the chance of his shed rotting. Soon after, Justin found our website and our fully recycled plastic bases.
He began reading up on its benefits such as: 
Made in the UK from recycled plastic
Weather & UV Resistant
Hold up to 420 tonnes
Quick & Easy to install
Permeable with an 80%+ open structure
Justin was so impressed with the base that he ordered a 14ft x 8ft Plastic Shed Base the same day. His order was dispatched the next working day and arrived at his home just a few working days later ready to be installed.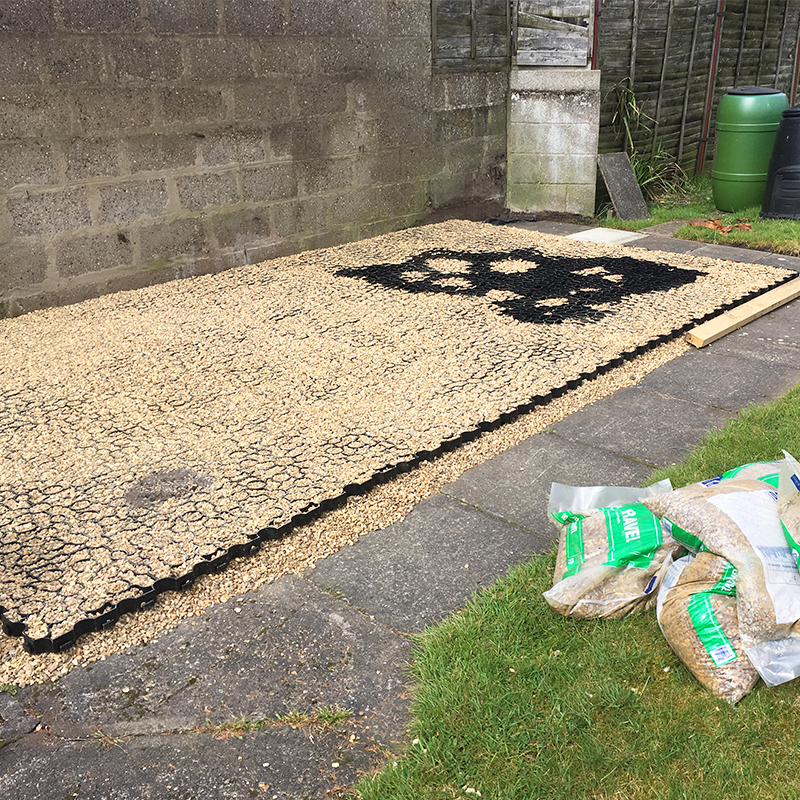 Installing Plastic Shed Base
Justin began by removing the existing ground and ensuring there was a suitable flat surface on which he could begin his installation. The material that he removed was either disposed of responsibly or reused elsewhere in his garden.
From here, Justin laid a thin layer of gravel to create a solid sub-base on which his plastic shed base would sit. Creating a good sub-base is very important when installing a plastic shed base as without the correct supports in place, the base cannot perform to its maximum ability. With the sub-base laid, Justin compacted the gravel down as well as he could using wooden planks to ensure the base was flat and compact.
On top of the sub-base, Justin began installing his 14ft x 8ft Plastic Shed Base. Justin started in one corner and laid 4 panels at once (which is how they are packaged) before laying 4 more and simply connecting each piece together using the specially designed slot and peg system.  He repeated this process until the full base had been laid, Justin told us how simple the base was to lay.
With the base in place, Justin began filling his 14ft x 8ft base with decorative gravel, around 8kg of gravel is required to fill a single panel so you can estimate how much gravel you will need to cover the full area. (E.g: 14ft x 8ft = 112 Panels. So 8kg x 112 Panels = 896kg of gravel required).
Finally, with his base now overfilled with gravel, all that was left to do was have his 14ft x 8ft shed installed onto his new base!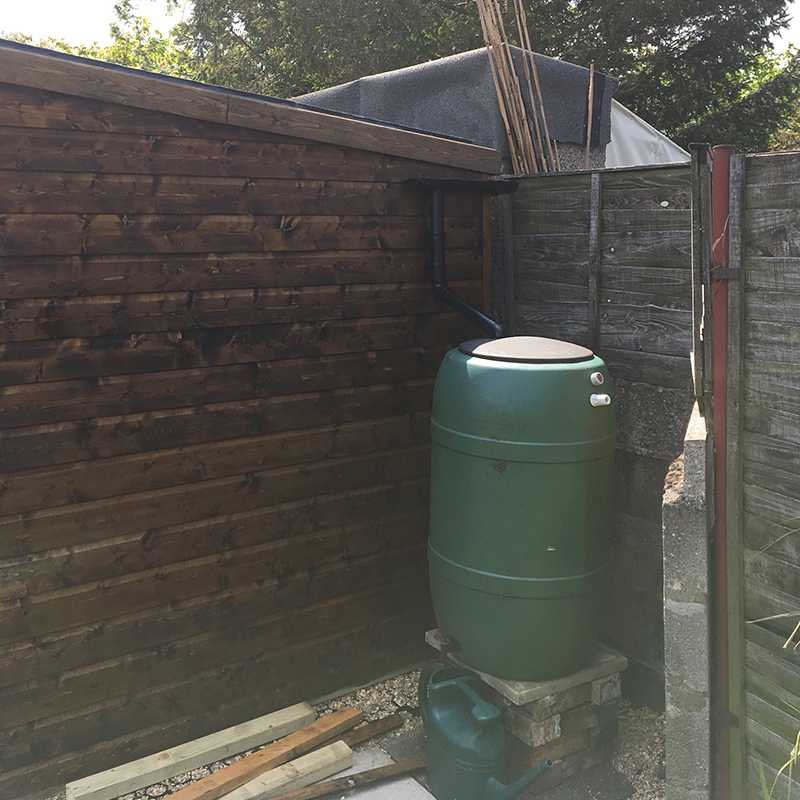 Conclusion
Justin was and still is very pleased with his new 14ft x 8ft Shed Base and Wooden Shed. We agree his shed looks great and will provide him with a large storage or work space for years to come. His purchase of a water butt to collect any rain that falls on his shed will prove to be a great purchase too.
A big thank you to Justin for the photos he shared with us. Should you have any photos to share of your installation or have any questions regarding our products then please do not hesitate to contact us.