After ordering themselves a new garden building (shed, greenhouse or log cabin) most people begin to think "How do I install a base?". Which can lead to panicking and hiring someone to lay a an expensive concrete slab for you or it can lead to researching the best log cabin base for you which is eco-friendly, permeable, strong, easy to lay and very affordable. Read on to see which path was taken by the person featured in this blog:
Jump To:
The Project
Kimberley and her family had recently purchased a brand new 14ft x 8ft log cabin to install at the bottom of their garden. And with the intention of everyone enjoying the log cabin, the entire family was to be involved with installing the base which is why an easy to install foundation was needed.
After searching the internet, Kimberley came across our website and our fully recycled plastic bases which she began to read up on. After finding out the panels were made from 100% recycled plastic, could hold up to 420 tonnes per sqm, were permeable, lightweight and easy to install she ordered a 14ft x 8ft Plastic Base with a Shed Base Membrane.
The ordered was packaged by our warehouse team and Kimberley received her base in an easy to manage box the next working day via a courier delivery.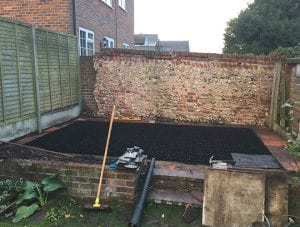 The Work
Once the installation day arrived, Kimberley unpacked her base and membrane and began the install with the family. The first job was to ensure the area was clear which was done by removing old paving stones and simply levelling the exposed ground. On top of here they unrolled their sheet of membrane and temporarily secured it using bricks so the sheet could not be blown around or moved when walked on.
Next, with the membrane secure the base could be laid. Starting in one corner they laid one panel at a time and simply connected each together as they went along using the simple slot and peg system. A process the kids could get involved with thanks to the panels being light and easy to handle.
Once all of the panels were installed the entire area was filled with gravel. Around 8kg of gravel is needed to fill each panel. Again the children could get involved with this part, with the gravel spread they could jump and stomp the gravel down to ensure the entire area was very compact! (You can see this in the below photo)
Finally with their 14ft x 8ft Plastic Base complete they could have their brand new log cabin installed!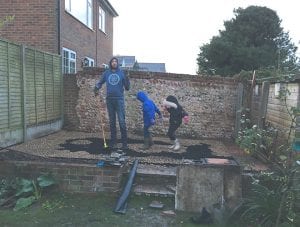 Conclusion
Kimberley and her family were and still are very pleased with their new log cabin and fully recycled log cabin base. They were impressed with how simple the base was to lay and how strong it is holding a large log cabin. We all agree their new garden building looks fantastic!
A big thank you to Kimberley for sending in the photos of her Log Cabin and Log Cabin Base installation. Should you have photos to share with us or any questions regarding our products then please do not hesitate to get in touch with us via the contact us page.