If you are already a shed or cabin owner with a wooden base, the chances are unless you have taken every precaution then your wood may have started to rot. This means water is being absorbed by the wood and damaging the support. It can be an extremely tough job replacing them. Using our shed base ensures that the ground under your base is permeable, so no water can get sucked up by your shed or the support. Meaning no big replacement job needed either, see what our customer Loron decided to go within our blog below!
Jump To:
The Project
Loron got in touch with us last year as he had purchased a new shed from Simply Sheds and was looking at all of the options he had in terms of bases. There was a large area that needed to be covered, which of course isn't an easy job when it comes to pouring concrete or laying paving slabs.
After researching and speaking to us Loron bought a Plastic Shed Base and a roll of Membrane from us. He bought from us as our website was the easiest to use to find the right products. His base was delivered 3 days later in easy to handle boxes in a 1 hour designated time slot from our courier. The only item Loron didn't buy from us was decorative gravel which was bought from a local hardware store later on.
Loron was doing the work himself and had a secluded area of grass and soil ready and prepared for his base to be laid and his shed to stand on.
Including the shed, Loron paid around £1500 for the project.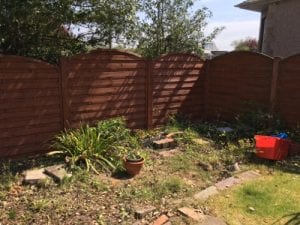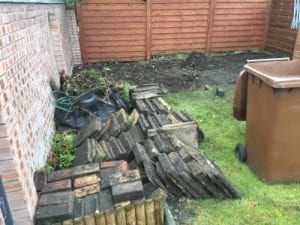 The Work
Loron started off his project by emptying the bottom of his garden, which as you can see from the photos at the bottom of the page was full of paving stones, plants and plant pots. Next, he outlined the 12ft x 8ft area where the base would stand and evened out the ground. After he rolled out the membrane over the entire area.
Once the membrane was secured the plastic shed base was easily built and laid down. With the base down it is just a matter of making it look a little more attractive, which Loron did by covering in his locally bought gravel. When the gravel had been poured over the base it was spread evenly to ensure no gaps were visible. Finally, the shed was ready to be placed on the base. So not much work to get a solid, permeable base down in next to no time!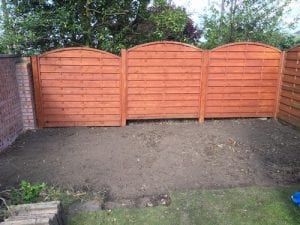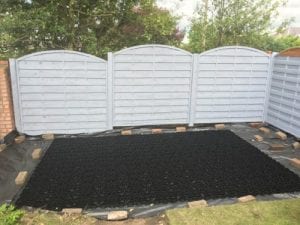 Conclusion
As you can see from the photos, Loron's shed is rather large. This shows how strong our bases are, they can handle far greater weight than a shed too! Loron told us how pleased he was with his shed base and how easy it was to lay.
"I laid the base myself which was relatively easy and provided the perfect base for the shed, sturdy and flexible solution that was a lot easier than a concrete base I would and have recommended you to others!"
A big thanks to Loron for the photos and the information he sent us to write this blog.
If you have any questions regarding our products please do get in touch!