Buying a shed can be the most exciting of times, but a few months later when the very predictable wet British weather has had its way with your shed, where does all that moisture go? With more common concrete or stone slab approaches to shed bases, the moisture is soaked up by your shed. This means soon enough you will have a wet and rotten shed. With a 12ft x 6ft plastic shed base the moisture takes natures course, slowly disappearing into the ground below the base meaning a happy, dry and not rotten shed for you! Read to see how Stuart approached his shed base.
Jump To:
The Shed
The design of the shed was Stuarts own, he built 3m x 3m fabricated sections in his garage, then erected the entire shed on-site in the garden once the shed base was in place.
It is a simple wooden frame and over clad using heat-treated wooden cladding panels which guaranteed against rot and shrinkage. The windows are double glazed glass units that were acquired from an old set of bi-folding doors. The French door was bought second hand and fitted with high-grade Perspex panels for safety reasons. The roof is a single-ply EPDM roofing membrane that is glued to the roof boards.
So as you can tell, the shed was amazingly thought out and put together by Stuart.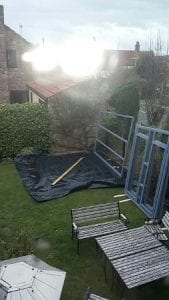 Other Products Bought and Total Cost
Stuart bought the rest of his materials needed for the project from a local supplier in the South East of Sheffield. Apart from his roofing materials which came from an Insulation company on Carlisle Street in Sheffield. The cost breakdown is as follows;
• Shed Base:£180 • Aggregates: £80 • Glass/Perspex: £80 • Timber framing: £300 • Timber cladding: £600 • Roofing Membrane: £100 • Internal Flooring: £80 • Locks and Hinges: £50
Stuart then went on to spend around £700 on Furniture such as Sofa's and a new TV!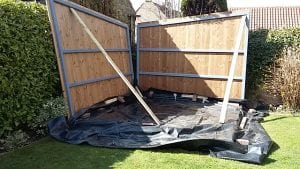 Laying the Base
Staurt did look at other methods before deciding on our Shed Base. However, after working out the costs and time taken to do each, our method was the clear winner. The costs involved with the others were far too high for me to consider we were told, also using a more permanent method would have rendered the project uneconomic. The grids provided a perfect technical solution at a very reasonable price. The assembly and laying of the base was also easy enough for just Stuart to do on his own.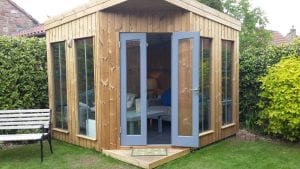 Conclusion
The shed has turned out fantastic with the help of the base. With little time and money spent on the base, Stuart had more of both to spend on the actual shed creating a perfect relaxation zone in his garden for the entire family to enjoy! The Customer Service received was also a great help throughout the process of buying and delivering of the shed base.