Jump To:
The Project
Our case study begins with Pete looking to replace his old wooden shed. He had a plan to create a large Summerhouse Shed that could be used for storage and also relaxation. Although he used concrete slabs and wooden beams for his old foundation, Pete decided to search for an alternative base solution this time which is when he came to our website. After reading up on our product and all of its features and benefits, he knew this was the right foundation for his new Summerhouse Shed! The same day Pete found our website he ordered a 10ft x 8ft Plastic Shed Base, before ordering a 5ft x 4ft Plastic Shed Base a week or so later.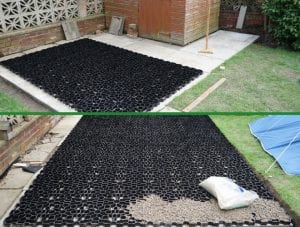 The Work
Pete collected both of his bases from our warehouse in Chesterfield and set to work installing his now 12ft x 8ft Plastic Shed Base as soon as he could.
To start, the old shed was emptied, taken apart and disposed of responsibly. The old paving slabs were cleaned down and levelled if they weren't already.  A small amount of existing turf was taken away, levelled and had paving slabs installed in its place.
Then on top of the paving slabs Pete began installing his 12ft x 8ft Base. Starting in one corner and laying one panel at a time, he simply connected each together using the specially designed slot and peg system which he told us was incredibly easy to do.
Next, Pete began filling the empty base with decorative gravel to make his base stronger and more attractive. Our bases do not need to be filled as they can hold up to 420 tonnes per square meter but we do recommend it with larger or heavier garden buildings.
Finally, Pete could install his new wooden Summerhouse Shed which looks great. He then proceeded to put the contents of his old shed into the new building and furnish where necessary. We're sure you'll agree that Pete has improved his garden with the Summerhouse Shed!
Conclusion
A fantastic project from Pete that looks fantastic and has transformed his garden. Pete is very happy with how the base has and continues to perform along with his new Summerhouse Shed which has become the main feature of his garden.
A big thank you to Pete for choosing our base and for sharing the photos and information to allow us to create this case study. Should you have images or information regarding your installation or questions regarding our products then please do not hesitate to contact us.