With so many options on the market it can be hard to decide which Shed, Log Cabin or Greenhouse to buy. Shopping around only makes it harder with more and more options looking like a good buy. However, we believe the easiest way to decide is to use a trusted supplier who have good reviews and buy a product that suits your needs perfectly. There is no point in buying a shed if you want a log cabin or buying a small greenhouse when really it needs to be large to fit all of your plants in. Bob from our case study shopped around for a while to find his Log Cabin, see who he bought from by reading on!
The Project
This case study is a project from Bob who got in touch with us after finding himself a great Dunster House Log Cabin Rhine 3m by 4m for his garden. After deciding to buy his new log cabin he needed a suitable base that would help prolong the life of his new investment. Which is why Bob visited our website and began browsing our products to find the perfect base for his new garden building. The same day he found our site, Bob ordered a 10ft x 8ft Plastic Shed Base. He also ordered it before 12pm so the base was dispatched the same day. Bob received the base 3 working days later in an easy to manage box for him to store until the day of install arrived.
Read on to see how Bob installed the Plastic Shed Base and his new Log Cabin!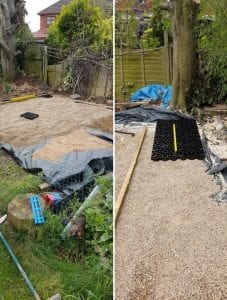 The Work
Bob began his project as most people do, by planning ahead and outlining exactly where his base and log cabin would be installed. From here Bob had an area to work within to get his base installed.
To start Bob excavated the existing turf from the area and disposed of it responsibly. This created a slight hole in which the base would be stood. Before the base could be laid Bob laid a sheet of Geo-Textile Membrane which is used to allow any water to flow naturally away from the log cabin to reduce the risk of rotting and also stop any unwanted plants or weeds from growing up and through the base. The membrane is secured into the ground using membrane staples to stop any unwanted movement.
With the membrane installed the plastic base could now be laid on top of the membrane. Starting in one corner and laying them one panel at a time and simply attaching each one as he went along using the slot and peg system, Bob told us how this was the easiest part of the job!
Finally, with the base laid he began filling the panels with gravel. Around 8kg of gravel is needed to fill each panel. With a now filled base Bob began building his Log cabin and installed this onto his secure base!
Conclusion
We would like to say a huge thank you to Bob for the photos and information he gave us to create this case study. As you can see from the photos, Bob's log cabin and garden now look amazing! We're sure he will get years and years of use from his garden building especially thanks to our base and its many benefits. Should you have any photos or information to share with us or any questions regarding our products then please do contact us.
"After reading the included instructions, building the base was very easy"