We've all sat in awe of those TV garden makeover shows where seemingly normal people perform garden miracles in just a couple of days. There's almost no doubting the fact that you're sat there reading this right now, feeling guilty about all the times this summer when you've neglected to do anything with your garden because it's too expensive or 'you'll never be able to do as good a job as they do on TV'; well, with these top garden makeover tips you'll be able to transform your garden in no time, whatever your budget.
Jump To:
Add Some Vibrant Colour
If your garden's looking a little dull and drab then forget tradition and opt for colourful planters for gathering on your patio or edging your lawn. If you've already got plenty of planters but they're not adding the sparkle you desire, grab yourself a tin of paint to spruce them up and you'll have transformed your garden in no time.
Feed Your Lawn
Your lawn will be the focal point of your garden but if it's looking dry or is bald in places, it'll instantly make your garden a less appealing place to be.
Give your garden an instant uplift by fertilising your lawn regularly – once each season is recommended. Not only will fertiliser make your lawn look healthier and fill in any worn areas, it'll also prevent weeds, make it more resistant against pedestrian traffic and improve the colour too.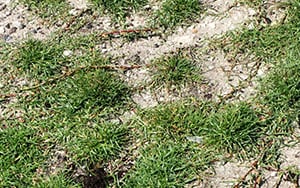 Shed/Summerhouse to Add Inside Outdoor Space
It might seem like a large expense considering this is supposed to be an affordable garden makeover, but when you think about the benefits, you'd be mad not to consider it.
Nowadays, just like garages, sheds are rarely used for their originally intended purpose. Whether it's a man cave, a garden office, a bar or just somewhere you can enjoy the garden even when the weather is terrible, they're a pretty simple addition and don't have to cost a lot. More to the point, when constructed properly, using a sturdy base, they'll last for years and all you'll need to worry about is a simple lick of paint every now and again.
If you do opt for a quirky shed use then this will almost certainly become the star attraction of your garden, it'll be a personal paradise that everyone wants a peek into because secretly, they all want their own. So get ready for some very jealous viewers.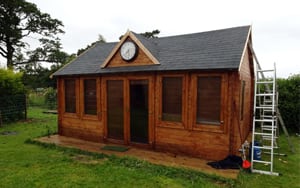 Use of Lighting to Highlight Features
Nowadays, it's really important not to consider your garden as a separate entity to your home, it should be an extension of your living space which means cushions, rugs and lighting are all acceptable. In fact, they're expected.
When conducting your garden makeover you should think about adding depth and character with every aspect. One of the easiest ways to do that is with outdoor lighting. There's so much of it about nowadays, from lamps that look like they've come straight out of your living room, to fairy lights, solar-powered lamps and tea lights.
Water Features & Fountain Focal Points
Water features don't have to mean a lot of labour or expense. If you move away from the idea of installing a pond and opt for something small and contemporary, you'll find that they're surprisingly affordable.
Head down to your local garden centre where you'll find a choice of elegant birdbaths and interesting fountains that can be added to your garden without the need of a pond. Alternatively, there are loads of places on the internet where you can get hold of them for rock bottom prices.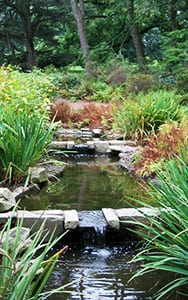 Paint Colour into Your Garden
Believe it or not, a lick of paint to your fence, shed and decking areas will make the world of difference to the overall appeal of your garden. Fresh paint or varnish will not only add colour, it'll also brighten your garden too so it's certainly worth the investment of time.
If you're unsure about the mixing and matching of colours, or indeed which colours you should choose in your garden, take a look at this useful guide from The Telegraph, which will give you all the information you need.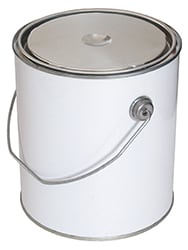 Accessorise for Comfort
In the same way that adding cushions to the lounge, towels to the bathroom and linen to the bedroom can transform each respective room in an instant, with a few simple accessories it's really quick, cheap and easy to transform your garden too.
Small, inexpensive touches like tea light holders, a patio set, new cushions etc. are really easy to get hold of and relatively cheap – if you choose wisely, at least. Metal decorations and vintage style garden accessories like watering cans and birdbaths are really popular right now and they can be maintained much more easily than wooden products too.
TOP TIP: If you have rust patches on any of your metal furniture, it's not a reason to throw it out. Use half a potato, cover it in baking powder and rub over the rusty areas. The baking soda will react with the naturally occurring acids in the potato and will get rid of the rust marks in no time.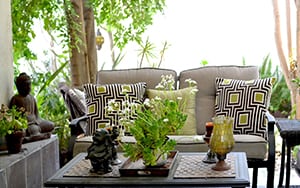 Clean the Patio, Paths and Decking
Just like cleaning your house gives it a beautiful, fresh look, giving your patio area a scrub down has exactly the same effect. Most people opt to borrow a power washer from someone rather than using elbow grease for the entire area, but however, you decide to go about removing the weeds, moss and general dirt, will significantly improve the image of your garden.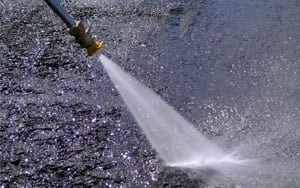 Declutter for a More Spacious Feel to Your Garden
Decluttering is a job that most people associate with being indoors, however, it definitely affects the outdoors too. All those times you've been pottering about and you've left your gloves, the rake and trowel lying around, or maybe the kids have been roaming free and there are bikes, mini spades and the like all over the garden, whatever the situation, the usual clean up rules apply – neatly store the things you use, recycle anything that can be recycled and bin the unusable and unrecyclable.
It's amazing how much better your garden will look after a tidy-up of all the bits that are lying around, with a tidy garden and added colourful accessories, you'll find yourself wanting to be out there even more.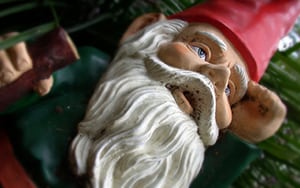 Eliminate Weeds From Your Garden
Our final piece of advice is weed removal. It doesn't matter how much you clean, paint or accessorise, if your garden is full of weeds it's not a place you'll want to spend a lot of time. If you've not tackled your garden weeds for a while then this is likely to be the biggest, most strenuous and most time-consuming job on the list, but once it's done, if you keep on top of it, it'll take just a few minutes each week.
For more advice on affordable garden makeovers, take a look at our blog or get in touch with our team for information about our strong, durable shed bases.