When it comes to choosing the base for your hot tub there are a number of things you may at first overlook. First being the actual weight of the tub, when filled the weight of your spa can sometimes quadruple. Second being spilled water or rain water, this needs to drain away from the tub and surrounding area as soon as possible to reduce the chances of water damage or slipping when out of the hot tub. Read on to see what base this customer decided on to solve just two of the many issues you may face.
Jump To:
The Project
This case study comes from a customer Stuart, who had recently ordered himself a Typhoon Six Seater Hot Tub from The Hot Tub Superstore. With the delivery date set, Stuart knew he did not have much time to get his base sorted so began searching for the best solution. After reading up online about concrete bases and standing hot tubs on decking he found our website. He browsed around and soon found our 7ft x 7ft Plastic Hot Tub Base, he discovered that our base can more than hold the weight of his hot tub filled (our base can hold up to 420 tonnes per sqm) and would allow all excess water to drain away naturally.
Stuart ordered a base the same day he found our website and received his order 2 working days later through DPD.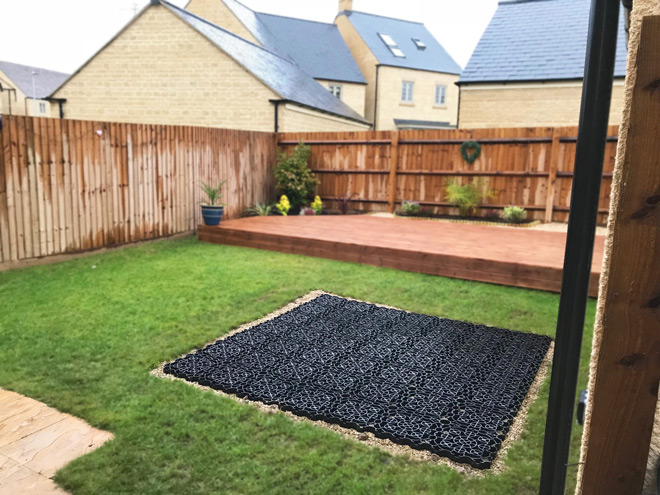 The Work
In the day between ordering and receiving his base, Stuart began the installation. He started by measuring out a 7ft x 7ft area in his garden and removing the existing turf in that area. From here Stuart laid a good layer of hardcore and gravel which he then compacted down very well. This created a solid sub-base on which our base would be installed to ensure there is no movement when the hot tub is installed or walked on.
The following day the base arrived in an easy to manage box which was packed by our warehouse team. Stuart continued with the installed almost immediately by laying the plastic panels. He started in one corner and began laying one panel at a time connecting each together as he went along using the specially designed slot and peg system.
The same weekend, The Hot Tub Superstore team visited Stuart with his new Hot Tub and installed it on our fully recycled plastic base with ease. After being run through how to work and maintain his hot tub, Stuart and his family were free to enjoy their new spa!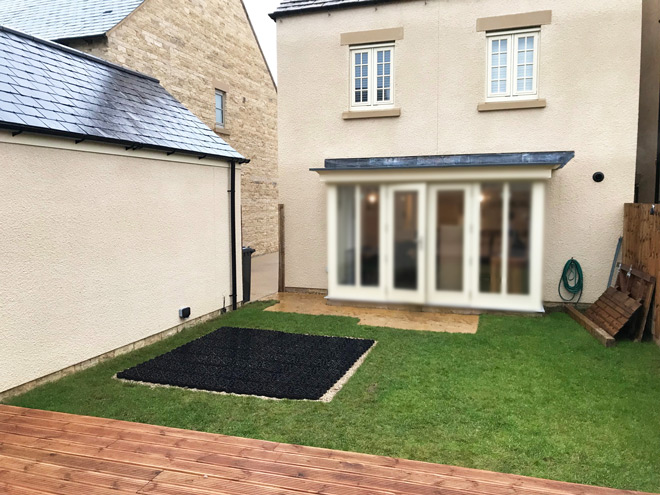 Conclusion
Stuart and his family are incredibly happy with their brand new hot tub and base! Stuart told us how easy the installation was and he would recommend it to his family and friends. We agree that Stuart's new hot tub looks great and were sure everyone will get years of use from the spa!
A huge thank you to Stuart for using our base and for sending the information and photos to allow us to create this blog. Should you have anything to share with us or any questions regarding our products then please do not hesitate to contact us.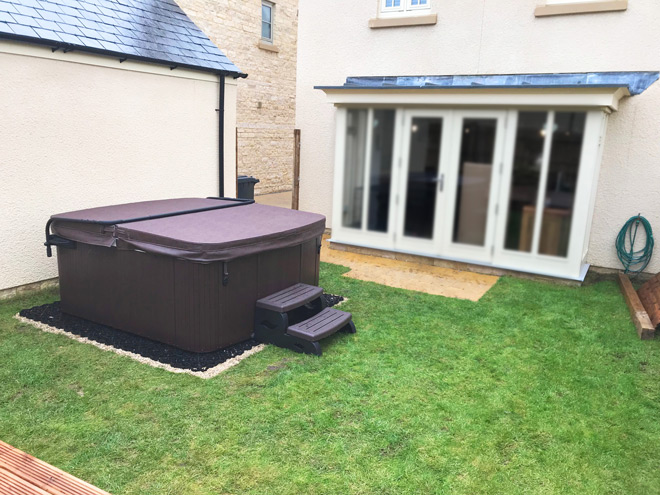 100% Recycled Plastic Hot Tub Foundations