Our fully recycled plastic hot tub and spa bases are a perfect method of creating a solid and stable hot tub base. More traditional methods such as concrete or no base at all may not be up to standard to fully support a heavy spa. Being able to hold up to 420 tonnes and allowing excess water to drain away naturally our base's benefits make concrete bases seem a silly decision now. When Mark and William decided to look for a Hot Tub Base they considered the traditional methods, but did they use them? Read on to find out!
Jump To:
The Project
Mark and William found our website after buying their Tahiti Hot Tub from Hot Price Tubs. They had thoroughly researched their options; concrete base, wooden base, standing straight onto grass or slabs or using our incredibly strong, permeable and easy to lay base. As you can probably guess they decided to use our base as the foundation for their new spa.
People may question the strength of the base and wonder if it is strong enough to hold a Hot Tub. Our base has been tested by Lloyds British and can hold up to 420 tonnes per square meter, and the Tahiti Hot Tub when filled weighs 1.93 Tonnes. So as you can tell our base is more than capable of holding your Spa.
Read on to see how Mark and William installed our base.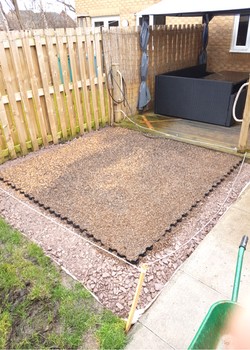 The Work
Mark and William ordered their 8ft x 8ft Plastic Hot Tub Base the same day they discovered our website and the foundation was delivered for free 3 days later. Arriving in easy to manage boxes they can be easily moved and stored until the day of install which of course is very helpful when it comes to receiving deliveries mid-week.
They started off by outlining the area where the base and hot tub would be stood in their garden. After making a faint outline they removed the existing turf and soil to a depth of around 60mm. This was so when the base was installed it would sit flush with the surrounding turf. With the turf removed and disposed of a small layer of sand was laid around 10mm deep and compacted down very well. This creates a solid sub-base on which the hot tub base will be laid on.
With the sub-base down and compacted the plastic base was ready to be laid. Mark and William easily unpacked the boxes and starting in one corner laid the panels connecting them as they went along until the entire area was filled. This is a very easy procedure due to the simple slot and peg system.
Finally, with the base installed the entire area was filled with decorative gravel to create a more attractive and solid base. Around 8kg of gravel is needed to fill each panel fully. With the base filled, larger and even more decorative stones were used around the outside of where the tub would be stood to improve the look of the entire area.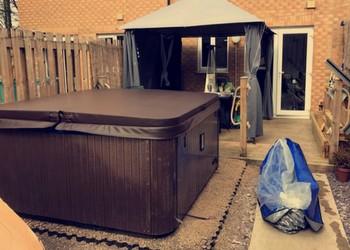 Conclusion
As you can tell from the photos, the entire project turned out fantastically well! Mark and William are incredibly happy with the base and their new Hot Tub! The installation of the base was very simple for them and saved them money and time compared to if they would have had a concrete base installed. We would like to say a huge thank you to them both for choosing our product and for sending in the photos and information to allow us to create this case study!
Should you have any questions regarding our bases then please do contact us.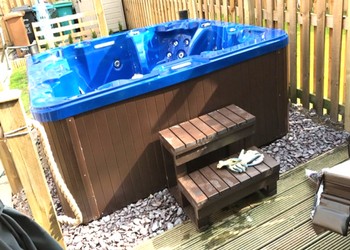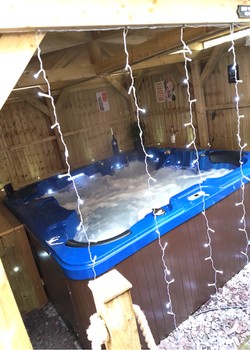 100% Recycled Plastic Hot Tub Foundations