Jump To:
The Project
This case study comes from our customer Tony who had recently purchased himself and his family a Tropic Seas Spas Hawaii Hot Tub from Doncaster based Artesian Spas. Once his order was complete he set about looking for a strong, not too expensive or labour intensive foundation. After researching multiple options Tony found our website and began to browse. Tony ordered himself a 7ft x 7ft Hot Tub Base (49 panels) the same day he found our site and received his order 3 working days later.
"After searching online we decided to use your products because they looked easy to use. Also because when full the hot tub will be heavy so will need a good solid base, a base that a simple handyman could lay."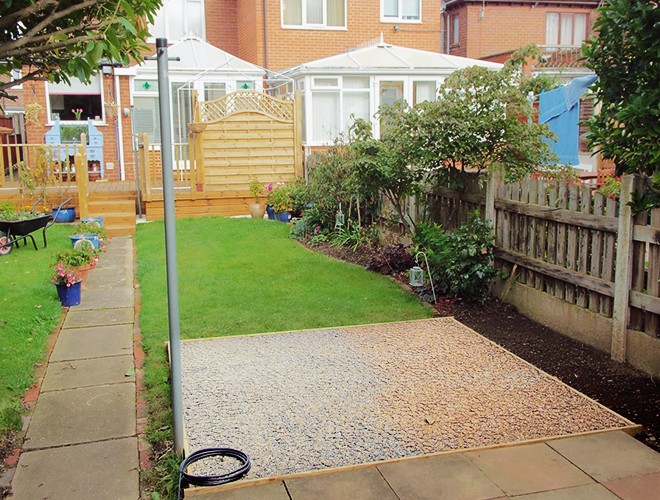 The Work
Tony unpacked his base in the garden and started with his installation. He began by measuring out and outlining the edge of his base by installing 70mm wooden boards around the entire base.
From here he filled the newly created box with 10mm pea gravel up to a depth of 30mm to create a solid and permeable sub-base on which to stand our Hot Tub Base.
Next, Tony began installing his 7ft x 7ft Hot Tub Base. He laid one panel at a time starting in one corner and simply connected each panel together as he went along using the specially designed slot and peg system. This was very simple Tony told us.
With the base installed Tony just had to fill the entire base with the remaining 10mm pea gravel, around 8kg of gravel is needed to fill each hot tub base panel.
Finally, with the base now installed Tony could have his Tropic Sea Spas Hot Tub installed and begin to decorate the garden with gazebos and lighting!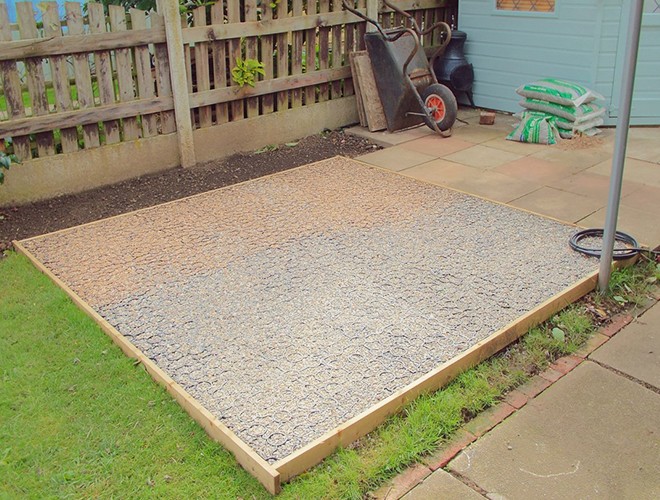 Conclusion
Tony was and still is very pleased with his plastic base and new hot tub and how they have performed.
He told us about his installation and how it turned out; "I outlined the area with 70mm board , filled to a depth of 30mm with 10mm pea gravel , then the hot tub base filled with 10mm pea gravel. Very pleased with the result ."
A huge thank you to Tony for using our base and for sending in the images and information of his installation to allow us to create this case study. Should you have images of your installation to share or questions regarding our products then please no not hesitate to contact us.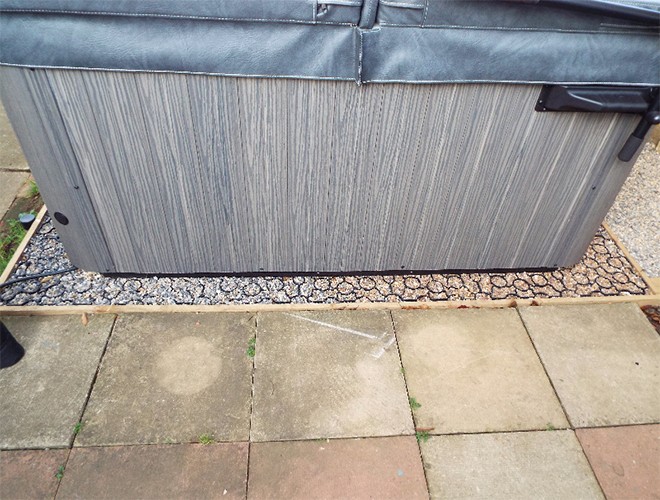 100% Recycled Plastic Hot Tub Foundations